Influencer Marketing Humor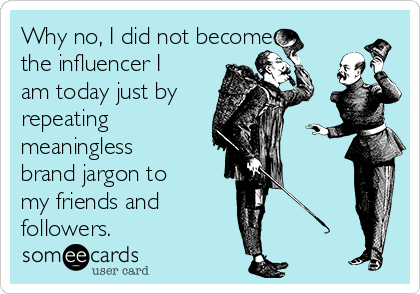 Brand influencers are influential for a reason. They've spent an inordinate amount of time crafting custom content about a subject they hold near and dear to their hearts for an audience they've come to love.
If your brand happens to fall into their subject matter category, spend time connecting with an industry influencer as a person: learn what they like to write or vlog about, hear what their audience likes and dislikes the most. And then provide them with interesting and relevant information about your brand that speaks to that relationship.
Whether you're building an influencer marketing program with mommy bloggers, daddy bloggers, fashionistas, home DIYers, tech nerds or foodies, understand that these folks connect with their audience in a way most traditional outlets will never know.
Influencers are not simply paid shills waiting to regurgitate your brand jargon. They're trusted advisers in their community space. Partner with them, and see a whole new world of brand engagement opportunities unfold before you. But abuse their influence and beware the backlash.
Share this to keep the conversation going: