Save yourself, master the "busy trap"
Let's face it; everyone is busy.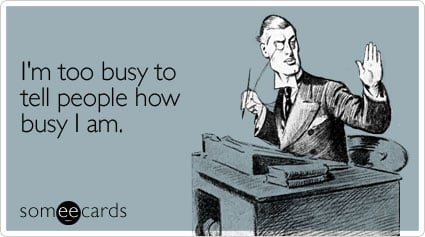 The never-ending need PR professionals feel to keep up with the blogging, tweeting,researching, outreaching, planning, calling and other non-stop forms of communication are just part of the business.
It's only up to you to master managing it. That's why it's important to balance your day and not let the stress of an overwhelming workload get the best of you.
Here are a few suggestions I've found effective:
To-do list: There's always a lot to do, and having a visual reminder of what is coming in the days/weeks/months ahead will help you better prepare.  I've found you gain a greater sense of your workload if you break down bigger tasks on your workload as much as possible. (Plus, you get to check things off your list more frequently, and who doesn't love checking things off?)
Prioritize: You should take into consideration the importance of the tasks at hand in addition to the time it will take to complete when planning your to-do list.
Use your resources: If you're feeling too overwhelmed, raise your hand. You have a team for a reason, don't be afraid to reach out to them and communicate your needs if you're fearful of missing a deadline.
Take a break: Even on the busiest of days, it's important to take some time to get away. Whether it's a walk around outside, a workout or going out to lunch, the time away from your desk can be a great refresher to empower you for the rest of the workday.
Your workload may seem like a lot, but remember you're working in a fast-paced industry that is ever evolving and always on-the-move. I've learned to love this nature of the PR world. It's important to work hard and manage your time wisely, and sometimes that means we should 'stop sweating the small stuff.'
Share this to keep the conversation going: